QuickBooks is a popular accounting software used by millions of businesses worldwide. Despite its popularity, accounting software, like any other software, is not immune to errors and problems. Among the common situations when this error pops up is when you try to use it after cloning hard drive. In the following article, we are giving you complete step-by-step instructions to fix QuickBooks error 3371: could not initialize license properties.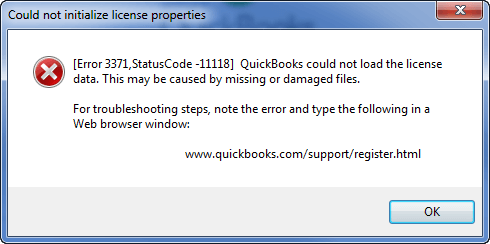 What is QuickBooks Error Code 3371?
QuickBooks Error 3371 is a licensing error that appears when the software fails to initialize its license data. A problem with the license data usually causes this error. Other major causes include:
A damaged or corrupt installation
A missing or damaged QuickBooks component
Causes of QuickBooks Error 3371
Here are the causes for QuickBooks error 3371:
Damaged or Corrupt QuickBooks Installation: If your QuickBooks installation gets damaged or corrupt, this can result in the error 3371 message.
Missing or Damaged QuickBooks Components: QuickBooks comprises several components, including the company file and the license data. If any of these components are missing or damaged, it can cause the error 3371 message.
Problem with License Data: A problem with the license data, due to an expired license, a license that got revoked, or a license that got transferred to another computer can trigger error 3371.
Windows Firewall or Antivirus: Error 3371 occurs if the Windows Firewall or an antivirus program blocks QuickBooks from accessing the Internet.
Symptoms of QuickBooks Error 3371
The following can be the symptoms of QuickBooks Error 3371:
Error Message: When QuickBooks Error 3371 occurs, you receive an error message that says, "Could not initialize license properties."
Unable to Access QuickBooks: If you cannot access QuickBooks, this could be a sign of the Error 3371 message.
Inability to Save Changes: If you cannot save changes in QuickBooks, this could be a sign of the Error 3371 message.
Slow Performance: If QuickBooks runs slow, this could be a sign of the Error 3371 message.
Also read: convert Excel to vCard
Some Easy Methods to Fix QuickBooks Error 3371
The following are some tried and true solutions for resolving QB error 3371. If applying one fix doesn't fix the problem, go on to the next.
Method 1: Update Windows
You may need help with the QBDT installation if your version of Windows is too old. To that end, take these measures to guarantee that you are using the most recent version of Windows:
Click on QBDT's Windows icon to access All Programs.
Next, access Windows Update.
Intuit recommends reinstalling QuickBooks after making the necessary upgrades.
Method 2: From the Tool Hub, Run 3371 Error Fix

Get the latest QuickBooks tool Hub.
Launch QuickBooksToolHub.exe and proceed with the installation as directed.
Double-click the Tool Hub shortcut on your Windows desktop after completing the installation process to launch the program.
You may find the Installation Problems tab in the QuickBooks Tool Hub window.
Simply choose "3371 Error Fix" and "OK" on the "Installation Issues" box.
Launch QBDT and see whether it can read your data file.
Method 3: Delete and Recreate the Damaged Entitlement File Manually
You may resolve the 3371 QuickBooks problem by rebuilding the entitlement file. Still, you'll have to remove the file manually if you want to start again.

To open the Run dialogue, use the Windows and R keys simultaneously.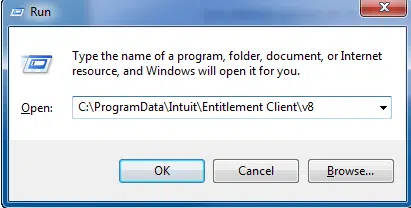 Just click the "Run" button and input "C: ProgramDataIntuitEntitlement Clientv8" into the box that pops up. The 'EntitlementDataStore.ecml' file will be available in a new tab or window.

Change the v8 in the preceding path to a v6 if you cannot access the Entitlement file folder.
Select the ecml file with the mouse, then click the Delete button to remove it.
If you are sure you want to delete the chosen file, click the "Yes" button.
You should now launch QuickBooks and access the company file.
Then, re-register QB by following the on-screen instructions.
Method 4: Reinstall QuickBooks Desktop from Scratch
Fix the issue by performing a clean installation of QBDT. Unfortunately, if this doesn't cure the problem, your copy of Windows is probably corrupted. If that's the case, it's time to call an IT support specialist or Microsoft to get the operating system repaired.
Conclusion
QuickBooks Error 3371 can be frustrating and can cause a loss of productivity. By understanding its causes and symptoms, you can identify and fix the error. If you still can't resume your work and facing QuickBooks error 3371, you can contact our QuickBooks experts for help at +1-800-615-2347.